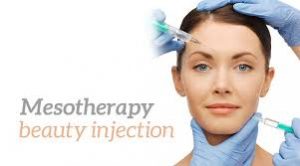 Facial Rejuvenation
Benefits: Radiant, glowing, youthful skin – smoothing of superficial wrinkles…..
As we age, our skin loses vital nutrients as a result of sun exposure, hormonal changes, poor diet and poor circulation. Mesotherapy technique is used to treat and slow the process of ageing. This treatment results in a dynamic skin with improved tonicity, elasticity and a VITAMINS
Mesotherapy for facial rejuvenation includes all of the vitamins required for the good exogenous biological balance of the skin:
Vitamin A acts on the flexibility of the skin by regulating the growth of epidermis cells. By acting on the keratinisation process, it favours cicatrisation and partially corrects the thinning of the derma due to skin ageing.
Vitamin E is an anti-oxidant due to its major anti-radical properties. It maintains the integrity of tissue by fighting the formation of toxic peroxides.
Vitamin C helps stimulate the synthesis of collagen and inhibit the synthesis of melanin.
Vitamin D is indispensable for the synthesis of calcium by the direct action on the phospho-calcic metabolism.
Vitamin B and its sub-groups are excellent anti-deficiency substances and are indispensable for the good biological balance of the skin.
Vitamin K plays a major role in the regulation of the micro-circulation.
Appearance resulting in a clear, attractive complexion.
The first sign of ageing is seen in the upper face and can appear in our twenties. Skin problems such as enlarge pores and sun spots are also a major problem with young skin-
Solution-Chemical Peels, Cosmetics Skin Care, and Muscle Relaxant Treatments can be used to improve the problem areas. Prevention is the key to maintaining a youthful appearance.
In our thirties and forties, volume loss in the cheek area will result in deep nose to mouth lines and lines above the mouth area. Thinning of the lips and drooping at the corner of the mouth will begin to develop.
Solution: Sculptra along the cheek area combined with dermal fillers and Mesotherapy can treat these problems. Clients may need skin peels to improve the texture of the skin.
In our fifties and sixties, loss of collagen and fat in the cheek areas in addition to fat redistribution to the lower face will create jowls and a double chin in the lower face. Mesotherapy can be combined with Sculptra, Dermal Fillers, Muscle Relaxants and Skin Peels to improve a person's overall appearance.
Skin stimulation and hydration
Mesotherapy is a unique treatment which can be used in conjunction with texturing and topical treatments to rejuvenate the skin. The process involves simple microinjection into the mesoderm to stimulate collagen and elastin production. In addition, we use hyaluronic acid with combination of vitamins to improve skin health from the inside. This treatment is very useful for women and men to
keep the skin looking healthy and young.